"Today more than ever, especially in the presence of His Excellency, I want to thank you for the brotherhood that has united the Holy See and the Republic of Albania on the international stage for 30 years," said Prime Minister Edi Rama at the ceremony of handing over to Cardinal Pietro Parolin, State Secretary of the Vatican, the Great Cordon with Star "BENEMERENTI".
The event coincided with the 30th anniversary of the establishment of diplomatic relations between Albania and the Holy See.
Recalling the visit of the Pope to Albania Rama said that he was received with immense love by thousands upon thousands of Albanians, Catholics, Orthodox and Muslims gathered in "Mother Teresa" Square to receive him on the land of religious brotherhood, as he himself defined it on that occasion. Rama said that the Catholic Church has fraternized the people in Albania for centuries.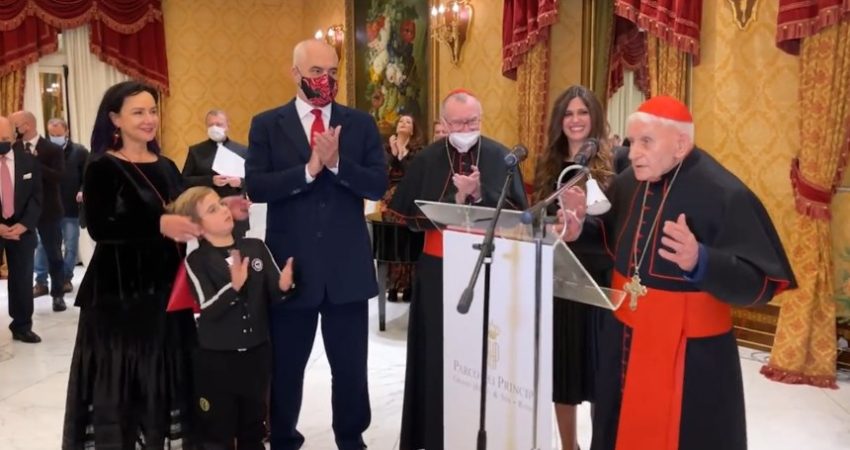 "Humble workers, but also far-sighted, this is the idea I created for the people who for three decades have contributed to the strengthening, but in fact, to the unification of the special relations between the Holy See and Albania in a kind of symbiosis," said the premier.
The Prime Minister publicly reiterated what the Albanian authorities have said several times in business meetings: the quality of the relations owes much to the wisdom of the choices of the State Secretary and the spirit of cooperation that His Excellency knows how to inspire and share.  Rama spoke of a joint commitment to a future agreement with Bambino Gesù Hospital to facilitate the free treatment of Albanian children suffering from serious illnesses and the construction of the first shrine dedicated to St. Mother Teresa in Albania.
He said that the holy place will be an important meeting point for hundreds of thousands of believers from all over the world and a constant call not to forget the poor.
Moreover, Rama stressed that "the refugee crisis in Afghanistan has provided us with an opportunity to show how the virtues of charity and closeness to others should be applied. Albania is one of the first countries, if not the first, to open its doors to thousands of Afghans in need." / Argumentum.al